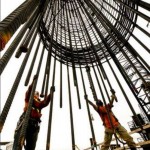 The ADSC-ECC has moved to a webinar format for our chapter events in 2021. Join us as we return to our biannual presentation series. Our first talk of 2021 is a double-header focusing on caisson reinforcement cages.
Reinforcing Cage Design
Presented By:
Craig Slama, P.Eng PE Jablonsky, Ast & Partners
About Craig: Craig graduated from Carleton University in 1997 and has worked in the engineering profession of the last fifteen years. A licensed professional engineer in Ontario, Alberta, Manitoba, Michigan and Connecticut, Craig has worked in Ontario and in New York throughout his career. Craig has been a partner with Jablonsky, Ast and Partners since 2007 and has participated in the design of several complex reinforcing concrete high-rise structures, such as Maple Leaf Square and Burano. His design experience includes sports facilities (Elmira Civic Center), complex structural steel structures (Loblaws at Bathurst and St. Clair), numerous pre-engineered steel buildings (with Butler Building) and pre-engineered timber roof trusses (with Fennel Corporation).
Hoisting & Lift Planning
Presented By:
Yaser Abu-Renneh, P.Eng., Industrial Inspection & Analysis.
About Yaser: Yaser immigrated to Canada in 1998 and has worked in the engineering profession ever since. After working within the steel and automotive industries, in engineering and quality control, he then trained with a highly-respected consulting firm. Subsequently, he became recognized, established, and respected by the Association of Structural Engineers. In 2007, Yaser entered the overhead crane industry, which he considers a milestone in his career, and he joined IIA in 2012. His most interesting and challenging tasks are forensic engineering projects. Yaser is considered a Crane Industry Expert and is sometimes called upon by The Court to take part in overhead crane arbitrations where he investigates and gives his expert opinion regarding crane malfunction and accidents.
PRICE: $0/ticket
SPONSORSHIP: $150
DATE:  April 6, 2021
TIME :  2:00PM – 3:00 PM ET
LOCATION: Online Event